Top 3 Clamp on Fishing Rod Holders
One tool that every fisherman needs is a rod holder. One of the most popular types of holders is clamp on holders. Clamp on holders are different from more traditional screw on holders in that they simply "clamp" onto the side of your boat when you are ready to go fishing.
This style of rod holders offers many benefits over traditional style clamps. One of the biggest benefits is reduced damage do your boat. Screw-in holders can cause costly damage to the sides and rails of your boat over time due to the screws.
While the holes for these screws may seem small they can crack your hull, ruin your paint and finish or even start to cause rust. Clamp on rod holders on the other hand only need to be clamped on before you start fishing. If you have never seen a clamp fishing pole holder it works just like a clamp you would use in your garage.
Top Clamp on Rod Holders
Eagle Claw Deluxe Rod Holder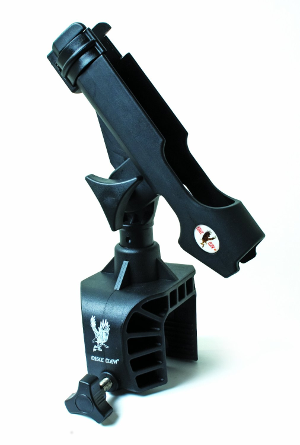 One of the best clamp on holders we found was the Eagle Claw Deluxe Rod Holder. It can be used for any type of fishing making a perfect choice for a fisherman that likes to try their hand at different forms of angling.
The Eagle Claw pole holder fits rods anywhere from 1 to 3/8th of an inch and is suitable for for both spinning and bait casting rods. The hold is tight to allow travel at high speeds but user friendly enough that anyone can attach it to a boat.
With a 360 degree range of mobility yo will be able to put this pole in exactly the right position to take home the big one. The rod holder keeps a good grip on the pole but is still very easy to pop the pole out when you feel a bite on your line.
Scotty Bait Caster and Spinning Rod Holder with Clamp Mount
Another great clamp on rod holders available is the Scotty Bait Caster and Spinning Rod Holder. The Bait Caster clamp is easy to install and will fit on almost any type of boat you can find out the water including canoes, kayaks, pontoon boats and other more traditional boats.
The fishing rod can be secured into the cushioned cradle via a snug strap. Many other holders on the market only have hard plastic cradles that could possibly cause damage to your pole over time.
The soft cushioned inside of the Scotty Bait Caster guarantees that your fishing pole will be safe from almost all damage while inside.
Attwood Stainless Steel Clamp on Rod Holder
A third great clamp on rod holder is the Attwood Stainless Steel Clamp on Rod Holder.  It is a very solid design and is one of the most popular clamps on the market. Like other clamp on pole holders installation takes only seconds and allows your rod to be placed in nearly and position.
The holder is made of 7.5 inch  316 stainless steel to prevent corrosion and has a beautiful polished finish.  The inside of the holder is lined with a unique U.V. resistant polymer liner, ensuring that your rod is protected when it is not in your hands.
If you are a fisherman in the market for clamp on rod holders, be sure to considered the Attwood Stainless Steel Clamp, you may need more than one!.
Having a good rod holder on your boat, canoe, kayak or raft is essential for any serious fisherman, without one you will be left holding your rod in your hands with painfully sore arms. All of these great clamp on rod holders are excellent options for nearly any type or size of boat and nearly any fisherman.  Be sure to pick one up before your next trip out on the lake in your boat.